Custom Pins
Custom Diecast Or Insert Pins Customized With Your Logo!
How To Customize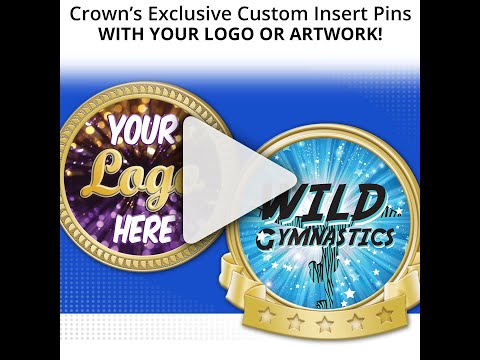 Creating your own
CUSTOM LOGO PIN
is fast and easy. Our designers will create
FREE Artwork
with your order. Need a custom logo pin in 24 hours? Try our
insert pins
!!
Custom Pins
request a quote

request a quote

request a quote

request a quote

Custom Semi Cloisonne Pins

request a quote

Custom Corporate & Organizational Pins

request a quote

request a quote

request a quote

request a quote

request a quote

request a quote

In-Stock Custom Insert Pins

Custom Pins

At Crown Awards, we have the largest selection of custom pins available anywhere. Custom Pins are a great way to brand and market your business, organization and/or team. With an unlimited amount of selection, our custom pins have a wide variety of uses including employee recognition, service awards, achievements, awareness and much more. They are also wonderful to commemorate students, clubs and sports groups.

How to Order Custom Pins

We make ordering simple. Our custom pin selection is infinite, making the ending product special. Choose the design you want and start making your customized pin today.

Crown offers the lowest prices available. Your options to create something special are endless. Call our custom department to get your custom pins ordered today, 1-800-542-6044!

Why Crown Custom Pins?

We are America's largest awards manufacturer and with over 40 years of experience behind us, Crown's custom pins are sure to fit your gift-giving needs. We have it all-- from custom trading pins and custom sport pins to awareness and recognition pins.

Our experts are more than happy to assist with your custom pin selection and order. Call us at 1-800-542-6044 to speak with a custom specialist or you can email us at custom@crownawards.com to get started! If you need same-day shipping then make sure to check out Crown Awards collection of in-stock pins.

Return/Damage Policy

If you need to report a defective award or to return an award(s), please contact our custom team at 1-800-542-6044 as all returns and damaged items must be authorized for tracking purposes.

We must be notified of pending returns or damaged awards within 7 business days of the order delivery date.
All return orders are subject to a 30% restocking charge.
Custom Awards, Shipping charges, engraved plates, plaques, Lucite, and crystal awards are NON-REFUNDABLE.