Custom Logo Awards
Crown Custom Manufactures Medals, Pins, Rings, Trophies, Crystals, Plaques & More With Your Logo!
How To Customize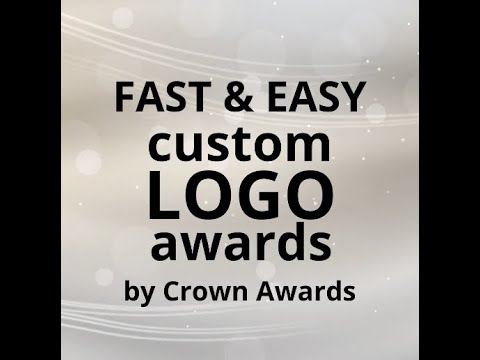 Custom Awards
Crown's Custom Awards are a great way to increase your name recognition while simultaneously awarding your team, employees, clients and business partners alike. Here at Crown we work hard to provide a reward for every occasion and are proud to offer the largest selection of Custom Logo Awards anywhere!
Awareness Bracelets: Promote your team or organization with an Awareness Bracelet! Perfect for increasing name recognition and supporting charities, causes, and organizations!

Custom Acrylics: Beautiful acrylic awards for any special occasion or event! These are great as a gift for business partners and clients alike.

Custom Banners: Custom Banners are a great promotional tool for indoor and outdoor events including birthdays, sport events, religious events, and more!

Custom Buttons: Award your team and increase name recognition at the same time with Custom Buttons! Attach them to your clothing, accessories, or put them on display at home!

Custom Coins: Our Custom Coins and Challenge Coins are the perfect gift for teams and organizations. Coins are double sided so the fun never ends!

Custom Insert Coins: Use your very own artwork or logo on our Custom Insert Coins! Available in double sided, or torch designs.

Custom Dog Tags: Custom Dog Tags come in soft enamel, printed steel, or custom insert. Dog Tags are great identifiers for teams and organizations!

Custom Crystal: These exquisite awards are the perfect gift for that special occasion! Custom Crystal can be laser embedded with your very own artwork or logo!

Custom Key Chains: Our Key Chains are a great way to increase name recognition and have fun all at the same time! Add our Key Chains to your key ring for everyone to see!

Custom Medals: Reward your team for their hard work with a Custom Medal from Crown Awards. Choose from many medal types including diecast, insert, and more!

Custom Patches: Custom Patches can be used as an award, as a display, or decoration! Patches are perfect for awarding your team or organization!

Custom Pins: Custom Pins come in all shapes, sizes and types! Choose from Photo Dome Pins, Soft Enamel Pins, Printed Pins, Rubber Pins, and more!

Custom Plaques: Custom Plaques are a wonderful way to display your hard work! Choose from a variety of Custom Plaques including Custom Logo Plaques, Custom Dash Plaques, Team Photo Plaques, and more!

Custom Ribbons: With regular award ribbons, rosette ribbons, and custom rosette ribbons, the possibilities are endless! Award your team with one of our Custom Ribbons today!

Custom T-Shirts: Let your team show off their win by wearing a Custom T-Shirt from Crown Awards. T-shirts can be silk screened or pressed with your very own logo!

Chenille Letters: Chenille Letters are perfect for awarding your team, employees, and business partners alike! Chenille Letters come in a variety of shapes and sizes for any occasion!

Custom Lanyards: Crown's Custom Lanyards are the perfect way to keep your team, organization, or fans hanging on until the last minute! Lanyards come in a variety of colors and feature a swivel attachment.

Rally Towels: Crown's Rally Towels are perfect for fans and players to cheer on their favorite team! Rally Towels come in a variety of colors and are made with a beautiful velour fabric.

Custom Rings: Our Championship Rings are perfect for awarding your entire team or just one indvidual! Great for all kinds of sports!
Return/Damage Policy
If you need to report a defective award or to return an award(s), please contact our custom team at 1-800-542-6044 as all returns and damaged items must be authorized for tracking purposes.
We must be notified of pending returns or damaged awards within 7 business days of the order delivery date.
All return orders are subject to a 30% restocking charge.
Custom Awards, Shipping charges, engraved plates, plaques, Lucite, and crystal awards are NON-REFUNDABLE.