Custom Logo Insert Medals
Custom Insert Medals Ship In 24 Hours! Choose your style, upload your logo and submit your order! Receive a color proof for approval before production begins.
How to Customize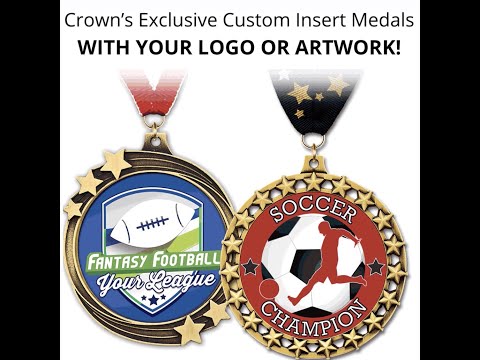 Custom Insert Medals
Crown Awards Custom Insert Medals are a unique way to increase your name recognition while simultaneously awarding your team, employees, clients and business partners alike. Here at Crown Awards, we are proud to offer the largest available selection of custom medals anywhere! From beginning to end, we will work directly with you to develop your personalized gifts.
Creating your own individually designed custom logo medal is simple. Order as low as 30 insert medals and they will be assembled and shipped within just 24 hours. With a fast turnaround, our custom insert medals are the perfect way to incorporate your team name, organization, or logo into a beautiful medal!
How to Order Custom Insert Medals
At Crown, everyone wins so we make ordering your personalized medals easy. You have the opportunity to customize and add individual touches to the following:
Design: Choose What Art or Logo You Want to Displayed on Your Custom Insert Medal
Shape: Pick From Different Facets to Reflect Your Event Including Hearts, Stars and State Shapes
Size: Ranges From 1 3/4" to 3 1/2" Medals
Colors: Unlimited Color Options
Medal Finishes: Gold, Silver and Bronze
Engraving Plates: Personalize Your Custom Insert Medal with an Engraving Plate on the Back
Neck Ribbons: Choose From Printed, Sateen, Solid Color or Custom Print Your own Neck Ribbon
Your Crown Custom Insert Medal is sure to be one-of-a-kind. Our artists can recreate your existing design/logo or produce new artwork at no obligation.
We proudly offer FREE art and setup, as well as a FREE neck ribbon for each medal. Free ribbon options come in over hundreds of colors and we also offer custom printed ribbon.
If you don't see what you are looking for, call our custom department to help guide you through every step of the process no matter how large or small your budget may be. To receive the perfect custom insert medal of your choice, call us today at 1-800-227-1557!
Why Crown Custom Insert Medals?
As America's largest awards manufacturer and with over 40 years of experience behind us, Crown's custom medals & awards are sure to fit your gift-giving needs. Crown Awards is here to provide our customers with the highest quality products at the lowest prices available, making us your custom made medal manufacturer of choice.
Our staff is available Monday through Sunday to answer any questions you may have regarding your custom order. Pick up your phone and speak with a custom insert medal specialist today, 1-800-227-1557! If you need under 30 medals, then check out our great line of stock medals.
Return/Damage Policy
If you need to report a defective award or to return an award(s), please contact our custom team at 800-542-6044 as all returns and damaged items must be authorized for tracking purposes.
We must be notified of pending returns or damaged awards within 7 business days of the order delivery date.
All return orders are subject to a 30% restocking charge.
Custom Awards, Shipping charges, engraved plates, plaques, Lucite, and crystal awards are NON-REFUNDABLE.